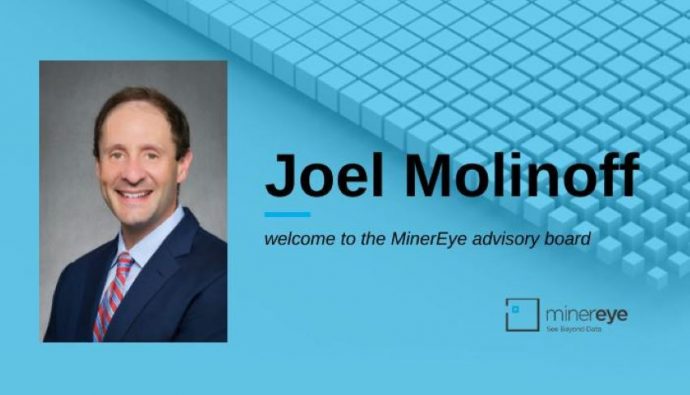 13.04.2020
MinerEye welcomes cyber security leader Joel Molinoff to its advisory board
Hod HaSharon, Israel – April 13, 2020 – MinerEye, data protection innovator, is proud to announce that cybersecurity and data privacy leader Joel Molinoff has joined our advisory board. Mr. Molinoff brings more than twenty-five years of executive leadership in cybersecurity, data privacy, risk management, strategy and operations.
Mr. Molinoff's vast experience includes public and private sector leadership roles at Fortune 500 companies, as well as the National Security Agency (NSA) and the White House. Most recently, he served as Executive Vice President, Chief Information Risk Officer for CBS Corporation. In his eight years at CBS, Mr. Molinoff grew the program to encompass management of information security, data privacy and content protection for CBS' diverse portfolio of global media and entertainment businesses.
Mr. Molinoff is a respected leader in the information security industry. He is an advisor to numerous emerging technology and security companies and has served on various boards, including the U.S. Federal Communications Commission's Communications Security Reliability and Interoperability Council (CSRIC). He also co-founded the Media & Entertainment Information Security Sharing Forum (MediaISSF) – a 25+ company member organization – to improve information sharing among media companies.
An advocate for veteran support initiatives and career mentioning, Mr. Molinoff serves on the board of American Corporate Partners, a veterans' support non-profit that helps returning veterans transition to the private sector. He is an active mentor to returning veterans and their spouses and recently organized and hosted the Women and Information Security Perspectives Conference, a full-day event aimed at furthering women's career advancement in the field of information security.
To learn more about MinerEye's solutions, or to request a live MinerEye demo, visit www.minereye.com or email info@minereye.com.          
*  *  *  *
About MinerEye
MinerEye enables organizations to overcome the information governance and protection challenge. It automatically scans, indexes, analyzes, virtually labels and categorizes every piece of unstructured and dark data contained in the organization's data repositories. With proprietary Interpretive AI™, machine learning, and computer vision, the solution locates relevant files out of the billions that are stored, accurately evaluates them, qualifies them by significance and purpose, and automatically sends alerts with next best action recommendations in cases of conflicts, duplications, or potential violations. This way, data protection is profoundly enhanced while risk and operational costs are reduced.
To learn more, visit www.minereye.com, or connect on LinkedIn, Twitter, Facebook or YouTube
next post

previous post